Murals & Wall Art
I absolutely LOVE painting on walls…inside and outside. It warms my heart and creative soul that so much community art is being included on everything from bus stops to huge common walls that everyone can enjoy. It contributes to the visual richness of the community and is such a wonderful investment. If you love my work and would like a painting or mural please contact me to discuss your ideas… hello@sharonpeterkin.com.au

I have included a few of the murals that I have created and LOVE!
Bassendean Footpath Mural November 2019...commissioned by The City Of Bassendean
When I visited the proposed site of this footpath mural...there was a very sweet little cafe there with people just hanging out with friends and their kids.
It struck me that we are all also in such a hurry and with the painting going onto to the path I thought it was a wonderful opportunity to convey a message of hey...lets all just slow down a bit and small the flowers. I put a little quote in the painted book in the hope that people will stop a moment to read it and take their time to view the painting. It seems to have worked as I get lots of feedback just how much the community has fallen in love with their footpath mura
Private Residence December 2019
"I wanted something wishful and whimsical yet full of meaning, and while I came up with the concept, Sharon had the tough task of bringing it to life". (Kelly)
Dandelions can thrive in difficult conditions and symbolise the ability to rise above life's challenges. Feathers represent a connection to spiritual realms and symbolise the ability to transcend and move beyond our mental barriers and limitations and birds....well they speak for themselves.
I was invited to Beverly W.A. to talk about what sort of mural we could do to initialy provide a visual barrier to a toilet block. I had no idea what I was going to do until we walked around the space. We spoke about a very loved community member that had unfortunately had past away suddenly.
She had a-lot to do with the arts centre and it occurred to me the painting should be all about her. I gathered information about this treasured person and together with a good friend of hers and the family, I was able to include elements that told a story... all about her.
In the end it was so much more than a mural to hide an ablution block and became a symbol of what this person meant to a whole community. I loved creating this painting and is very dear to me now. I enjoy working with others to create a piece that is very meaningful and a collaboration.
Woodbridge Primary School

The following two murals were a gift to my daughter's Primary School. We had such amazing teachers and a lovely experience and I was so grateful for their efforts. It was a pleasure to do and there's a little bit of long lasting evidence that we were there and not to forget about us!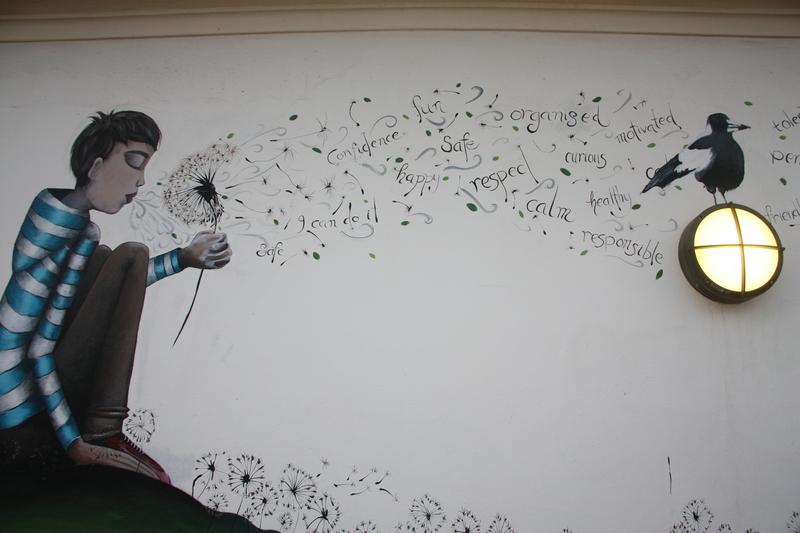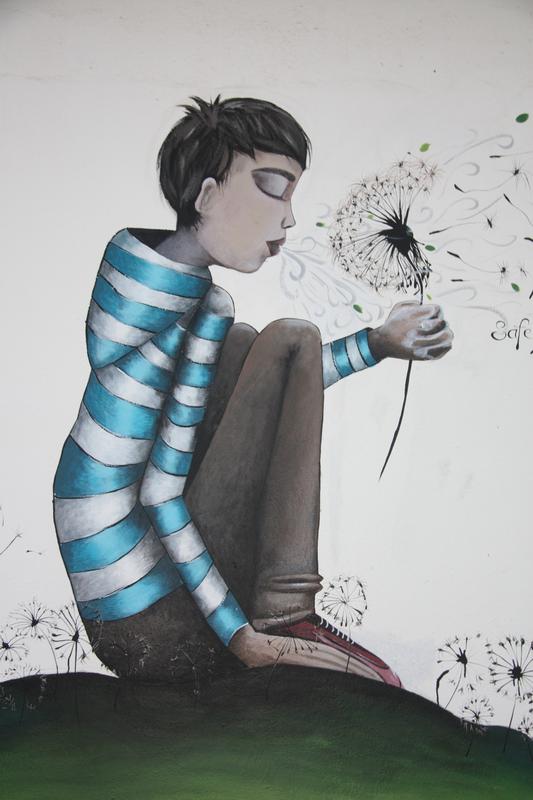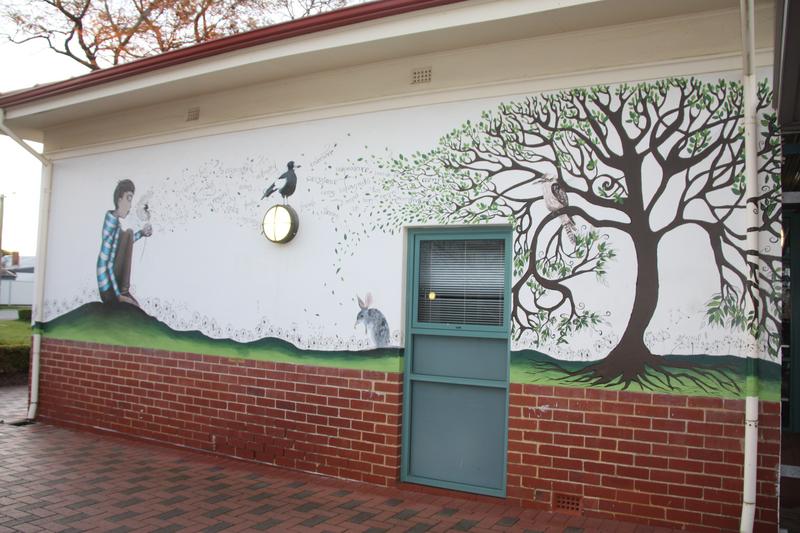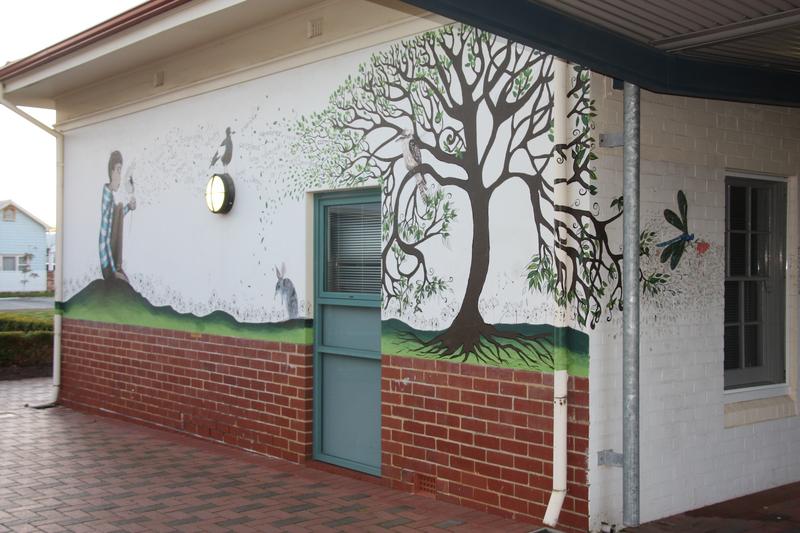 MID CENTURY CAFE AND COLLECTABLES

A FABULOUS groovy cafe in Perth where the owner/creator had so many exciting ideas and a fabulous vision for her business.They chose the colour palette and pretty much left the rest up to me (my favourite part)... I'm a bit of a retro loving girl, so this was so much fun for me to paint and right up my alley.

ACCOUNTANT'S OFFICE, EAST PERTH

Some may think this is very unlike my style but in fact it was another painting that was right up my alley. I asked the accountant what they did and he basically said that we take peoples business information and put it all into order. A picture of my my own book keeping style jumped into my head ( emptying a shoe box full of receipts onto his desk...whoops!) and the idea was born. It had to tell a story and it does, ending with the business mission statement and values. I would hope that clients will be curious while studying the painting and that it makes them think about it's meaning. I really really enjoyed creating this painting and my client was very happy.
PRIVATE RESIDENCE TRIGG, PERTH
The Mum of this little girl described her as having so much energy and was really playful. I decided that her bedroom mural could be exactly about her...all that magical energy coming out from the bottom of those busy feet. For the second bedroom in this home, her brother was really enjoying his iPad and discovering the games he could play and disappear into for a moment in his day...he loved them!
The image for his painting came to me instantly. I was very grateful that my client just trusted me to create just the right imagery for each Childs room. The best part was when the children would come home after school each day and see the progress. I was able to involve them in the process and feeling included made it that bit more personal.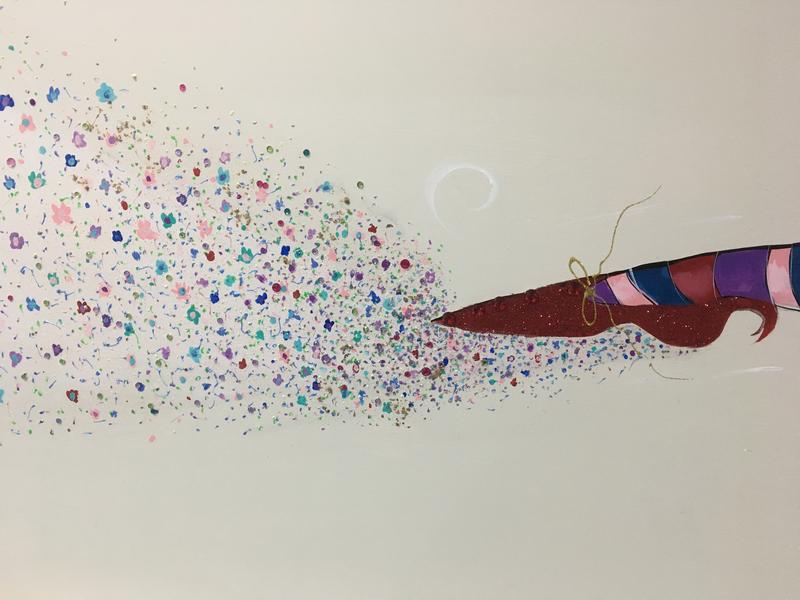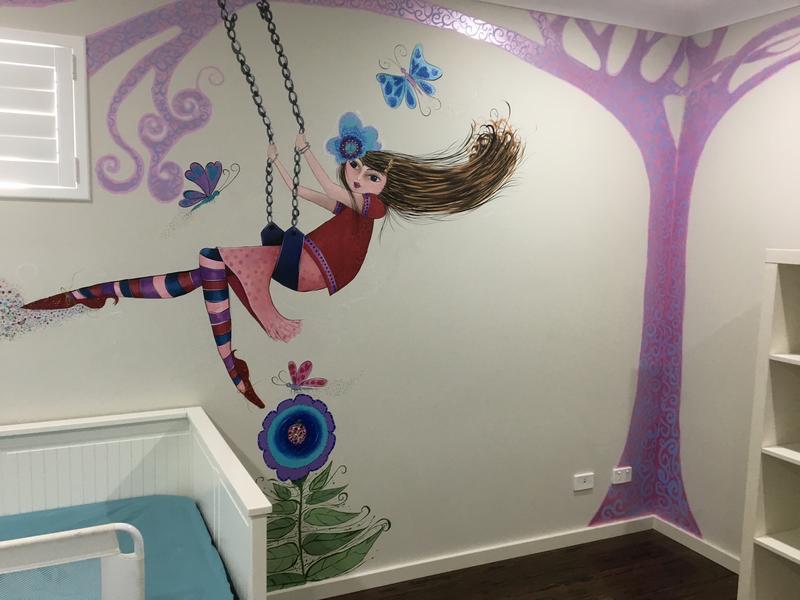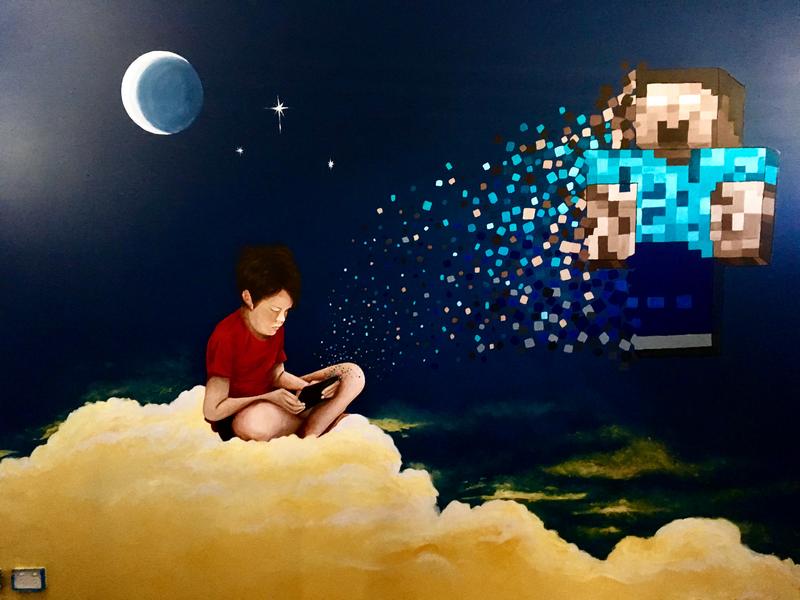 MID-CENTURY APARTMENT FREMANTLE W.A. 2018
My client didn't know what she'd like on her walls so I just looked around her apartment and asked her about these colourful chairs around the dining table. They were a favourite and she'd planned to keep them forever. I saw a great clue in them. The colour palette was already in front of us and the design had quite a mid century feel about it...so did her apartment. So I came up with a story board and asked her to trust me...and she did! ( I said anything that didn't work for her...I would change). We were both absolutely delighted with the end result. The mural began inside and travelled through to the back patio area.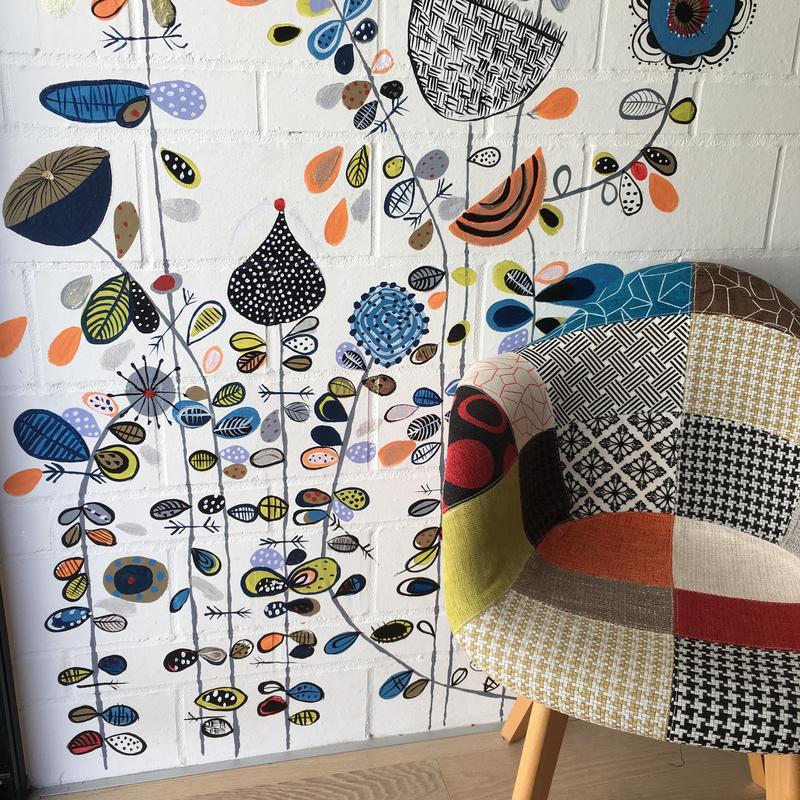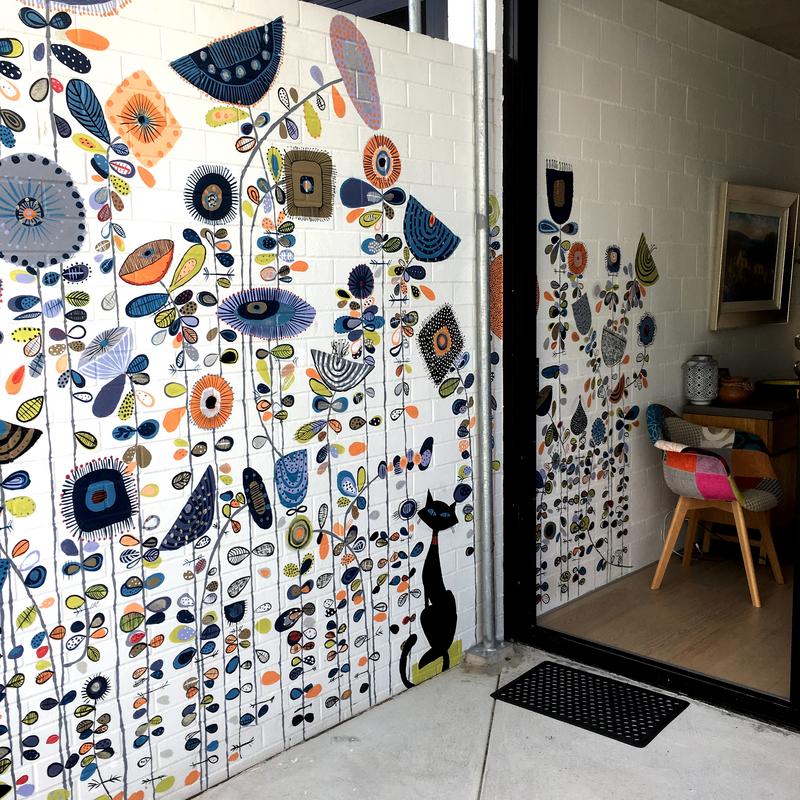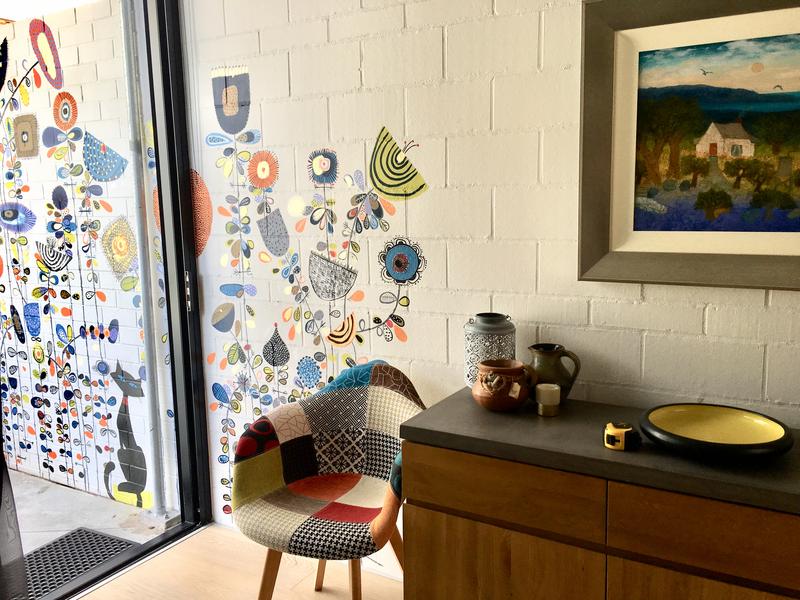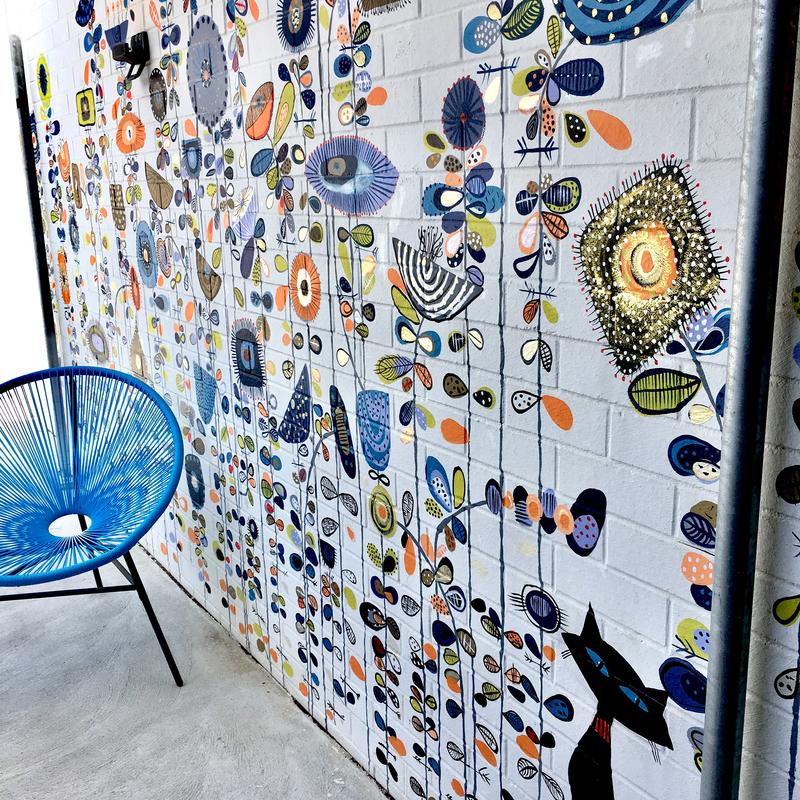 Private Residence Scarborough 2018
I met with my clients and they had a large white wall in their courtyard that they thought was to bare. We had a great conversation over a cuppa at our first meeting and I discovered they were both passionate Aussie bush lovers...Salmon Gum trees, lorikeets, pink and grey galahs and the Australian flora. The shape of the wall gave me the thought of having a scene about what might be happenning way up into the tree. I've found that its just so important for my client to have played a big part in the design of the painting. They need to have a strong connection and so we work together. It's my job to help them articulate what they can see in their mind.They will also have to live with the painting so I make sure they LOVE the end result.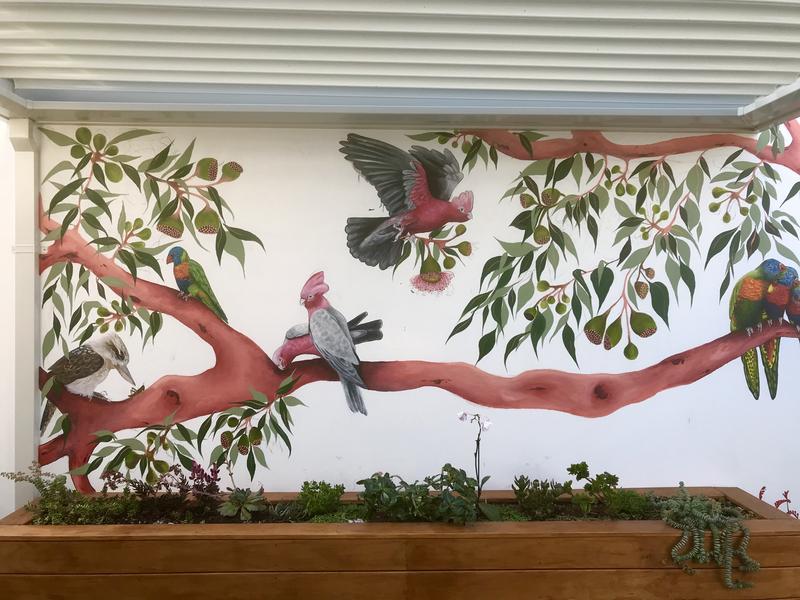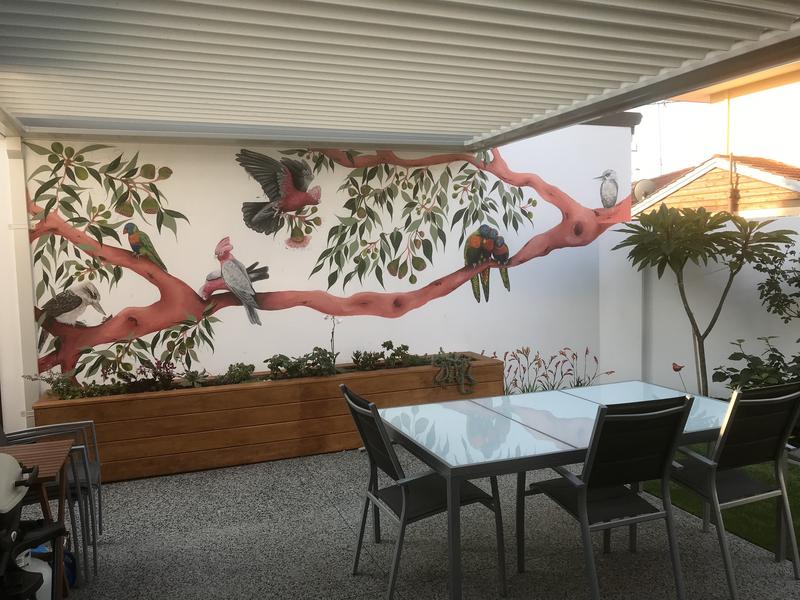 Olive Farm Winery, Swan Valley, Western Australia
This was very much a family business and it was important to portray that sentiment in this commissioned painting. Their kids represented the future and so we decided to make it about them. The dogs were always on the property and very much part of the winery family. They loved to greet the customers and everyone loved them....such characters.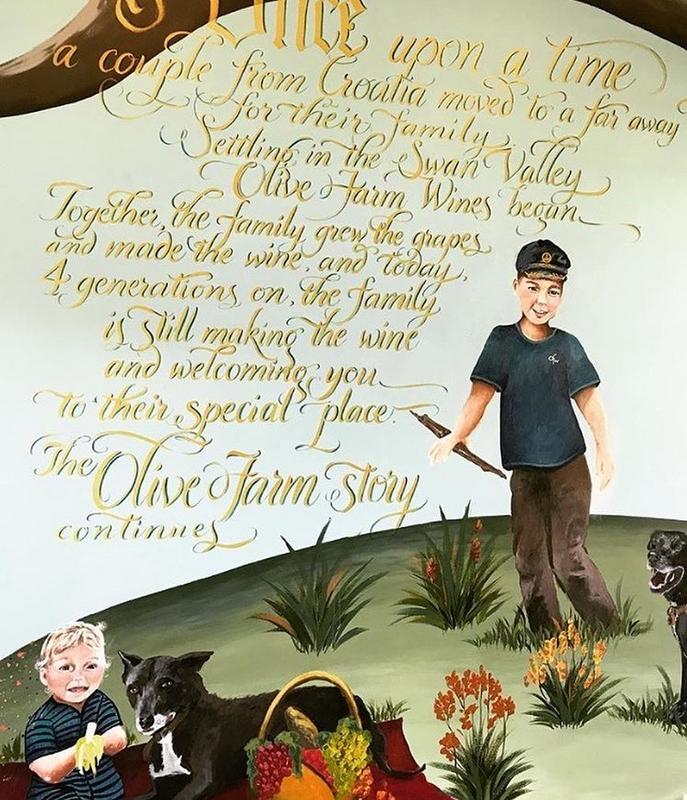 Concept Drawings
These were my ideas for a fabulous public art commission in one of Perth's laneways in the fashion precinct. I really love that these areas are being given attention and new life. Makes a city have character.
A concept drawing for a really great retro shop in Perth. The owner is a vibrant and colourful person that often wore purple. She is an amazing collector of "things" with a keen eye, so I thought she should be on the outside of her building.
A